Looking for a Los Angeles County or Orange County  Wedding DJ?
You have come to the right place!
DJ O.G Live exists to make your wedding a blast, making it an unforgettable night for all who attend. We are ready to partner with you in making your wedding something to remember. Give us a call today to reserve us for your next event. We would love to partner with you in making your wedding a dream come true.
Our specialty of music is latin, hip hop, top 40, EDM and other genres.
DJ O.G Live team consists of:
• Oscar Beltran – Owner / DJ / MC
• Rony 'DJ RonyG' Godoy – DJ / MC
• Josh 'DJ Savage' Vogelsang – Trainee DJ / Photbooth
More info can be found here in regards to our team
The services we offer are DJ, Photographer, Videographer, Photobooth, Uplighting, Monogram, Cold Sparks and much more. We also offer free consultations for financial services on how to protect and grow your assets (Investments, Insurance, Home Loans and Refinancing). 
Our most popular packages is our Gold and Loverbirds Package.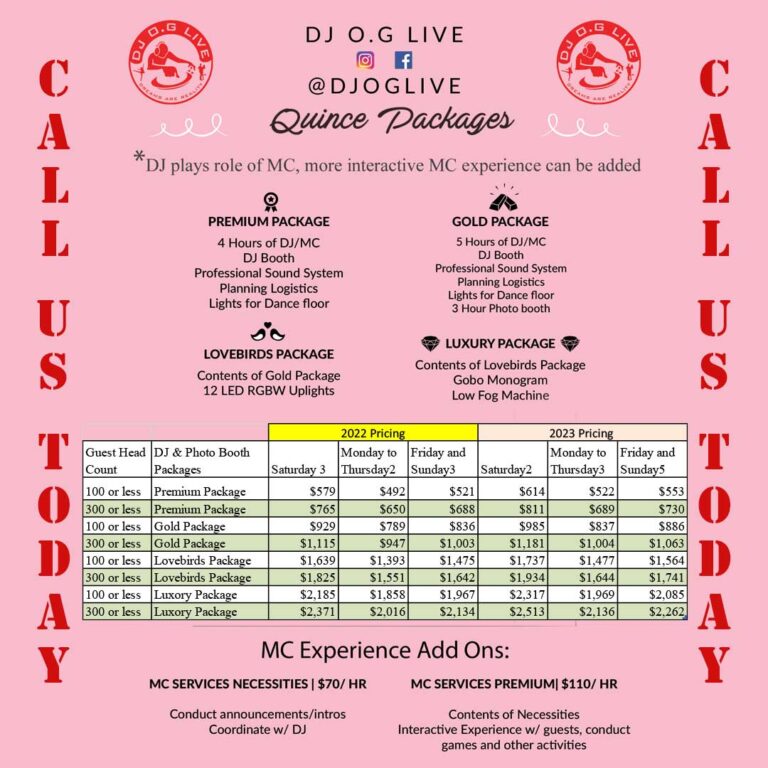 Add Ons: 
DIY Monogram

$100

Gobo Monogram

$250

 
2 Cold Sparks

$400

Low Fog Machine

$500

Projector Screen w/ Projector

$150
Oscar was a great wedding DJ! He was very organized as far as equipment goes, and super helpful when it came to deciding on our music selections. He also traveled all the way to San Diego to play for our wedding and provided us a photo booth that was a hit! If you're looking for a DJ that will be on time, is great at communicating, and will play some great tunes, Oscar is the DJ for you! I highly recommend him.
DJ O.G Live (Oscar) did my wedding and was amazing! First of all, he is a great communicator, which is huge for me. The week of my wedding he was great at reaching out and going over details, which I probably would have forgotten to do because I was so busy. He attended the wedding rehearsal to get a layout of the venue to be more prepared the following day for wedding. Music selection was amazing and got everyone moving. Oscar also got me hooked me up with a great photographer for our actual wedding photos. I highly recommend Oscar and Jordan as a photographer.
Hired DJ O.G for my wedding. He arrived perfectly with plenty of time to get situated and come to the rescue. I am extremely thankful for rescuing the ceremony although I had only hired him for the reception. Will definitely keep him at the top of my list for future events and is highly recommended.