Looking for a Los Angles County, Orange County, Inland Empire makeup specialist for your upcoming event?
We have a few packages to offer that will ensure you have the best touch up for your upcoming quinceañera, wedding or other special occasion.
*Pricing is rough and does not include travel fee
Bridal Makeup: $95
This makeup is a full face makeup application for my bride to be! It is perfect for day or night. It includes your choice of natural or dramatic lash. It can be natural double stacked lashes, mink lashes, or silk lashes. It will also include a sheet face mask or under eye mask & a small amount of lip product to touch up later in the day. It is a full coverage, flawless finish applied to ensure to last you all day.
Duration: 1.5 hours
Bridal Trial (Consultation): $45
This consultation will be with my bride and myself only. This will help my bride get a better idea of what type of makeup she wants to wear on her special day. This will include two different looks. A natural and a more dramatic look.
Duration: 1.5 hours
Soft Glam: $65
Full face makeup application includes lashes. Soft, natural makeup, with a natural satin finish. With those who want a natural yet slight definition. Best for day time wear.
Duration: 1 hour
Full Glam/ Prom: $75
Evening appropriate makeup. Perfect for a party or a night out! We can add some glitter, stacked or mink lashes are included in the price upon request. Full coverage foundation & and overall dramatic look.
Duration: 1 hour
Minimal Makeup (Eyes & brows only): $35
The main focus will be eyes and brows. Includes natural wispy lashes. I can also add pressed powder foundation on the skin very lightly as well if you'd like.
Duration: 25 min
1 on 1 Makeup Session: $115
This session will include step-by-step explanation on how to create a glam look from beginning to end using the techniques I use on myself and my clients. I will be providing the products you need. We can do a natural look or a dramatic look, which ever you prefer. We will discuss everything makeup! I will answer any question you have regarding makeup application/products. I will show you techniques and explain brushes with you & much more! My mission after this session is to make you feel comfortable and confident the next time you decide to glam up for date night!
Duration: 2 hours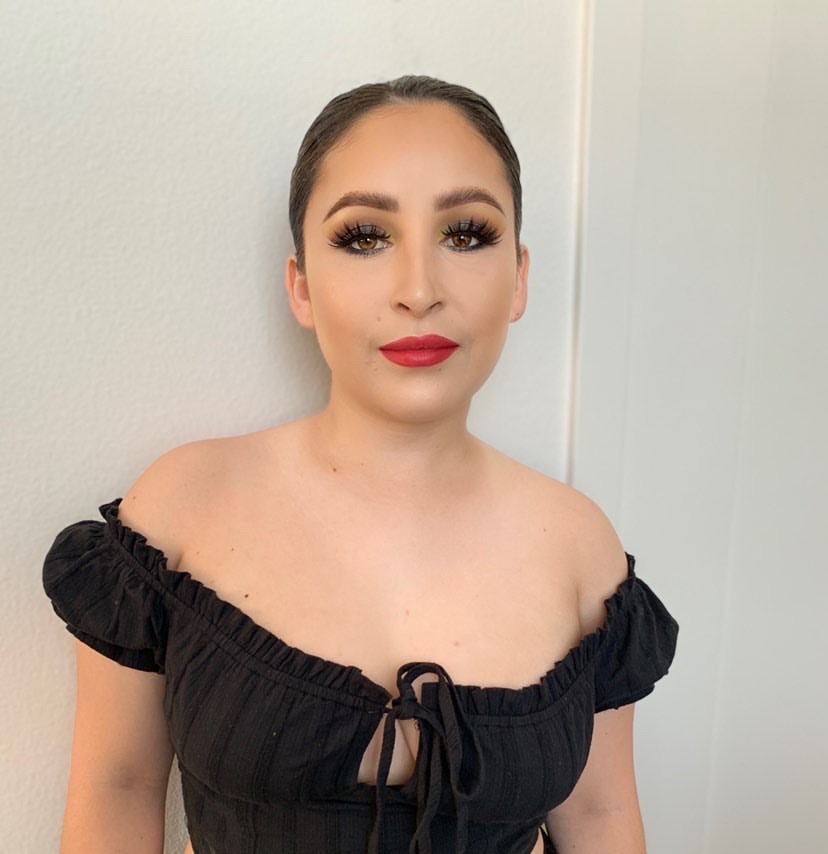 Stephany Chavez – Makeup Artist
Stephany is a starting out artist in Fullerton CA and she has a passion for make up.
Check her out on